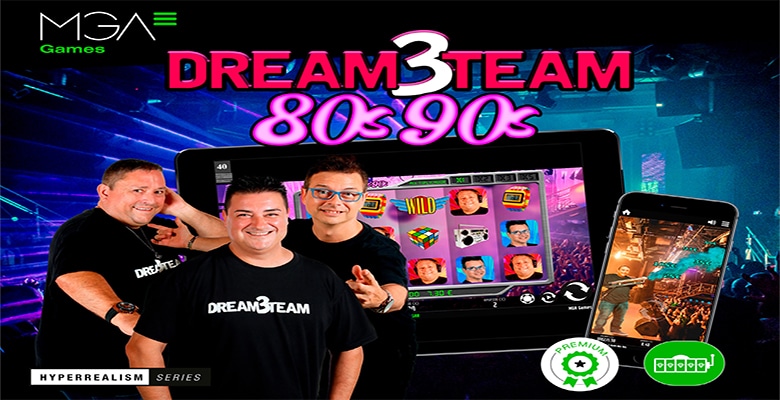 Latest Gambling News
DREAM3TEAM Casino Slot
The latest in the Hyperrealism Series by MGA Games to be released on the international market, with the DJs of the famous Max Mixes and Bolero Mix.
Summer is almost over but the party doesn't stop in the latest creation by MGA Games, the innovative company that specialise in the development of localised slots aimed for global operators, who have just released into the international market: DREAM3TEAM 80's-90's from the Hyperrealism Series.
The new casino slot by MGA Games is based on real stars – Quique Tejada, Toni Peret and Josep Maria Castells, the legendary DJs and brains behind Max Mix and Bolero Mix, who have sold more than 30 million records combined.
The key components of DREAM3TEAM 80's-90's are music, lights, dance and above all a pulsating rhythm. It's the same rhythm used to fill dance floors around the world and still gets the party started in Ibiza with the themed show Children of the 80's.
DREAM3TEAM 80's-90's is part of the Hyperrealism Series by MGA Games that uses a new hyperrealistic design for the characters. The slots not only impress because of their high-quality graphics but also because of the sequential loading that allows for a mobile igaming experience capable of running any game without affecting playability.
The DREAM3TEAM 80's-90's slot guarantees an immersive and unique experience that takes the player on a journey back through time to the 80's and 90's with the best electronic music and hallmarks of that era, including Rubik's cubes and classic cassette tapes.
The game also features 3 original mini-games based on each one of the DJs, where they include parts of their live shows. These include Toni Peret's guitar solo, Quique Tejada's turntables and Josep Maria Castells' smoke machine.
DREAM3TEAM 80's-90's will be available for international operators from Thursday 27 August – 31 August for Colombian operators – and will launch on the Spanish market on 21 September.