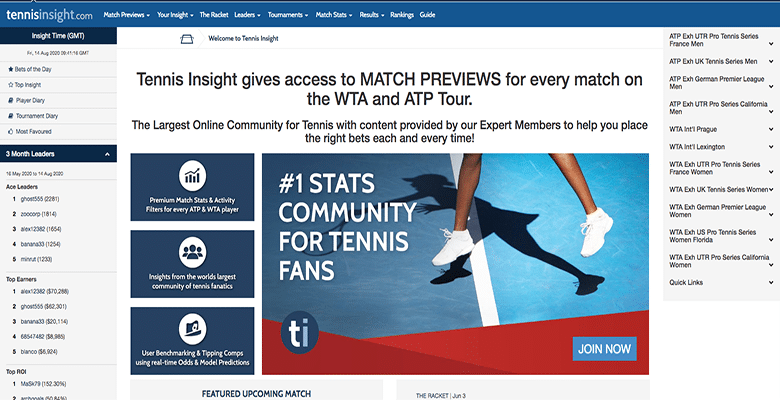 Latest Gambling News
BetQL Parent Company, QL Gaming Group, Acquires TennisInsight.com
The QL Gaming Group (QLGG), a leading direct to consumer sports data and iGaming affiliate platform, today announced the acquisition of TennisInsight, the world's largest online tennis community.
TennisInsight specialises in crowdsourcing data for the Association of Tennis Professionals (ATP), Women's Tennis Association (WTA), Davis/Fed Cup, Challenger and International Tennis Federation (ITF). The premium tennis statistics site has data on all 550,00 professional matches since 2000, including player ratings and actual vs predicted odds. TennisInsight also boasts 400,000 user-generated predictions.
This latest partnership will expand the capabilities of BetQL, QLGG's sports betting analytics platform for casual bettors, to include both men's and women's professional tennis.
"We envision BetQL as an all-in-one platform where users can find insightful data for all sports," said Justin Park, QL Gaming CEO. "We've learned that the best way to offer an authentic experience around a particular sport is to partner with a business whose sole focus is that sport. We can't think of a better partner than Ulysses Oliver and TennisInsight to power BetQL's tennis product."
QL Gaming also acquired a proprietary motorsports database built by a professional handicapper over a 19 year period. The 600,000 record database will allow BetQL to expand into NASCAR, Formula 1 and IndyCar.
ABOUT QL GAMING GROUP
The QL Gaming Group, based in New York City, is a direct to consumer sports data and iGaming affiliate platform. QLGG's mission is to educate sports fans and ultimately increase betting's entertainment per dollar ratio through data-driven products like BetQL. The company was founded in 2015 by Justin Park and Mike Shiekman. 
ABOUT TENNIS INSIGHT
Founded in 2006, TennisInsight is the largest online community for professional tennis. The site offers editorial, predictions and historical data for the ATP, WTA, Davis/Fed Cup, Challenger and ITF. The data is crowdsourced by TennisInsight's members.