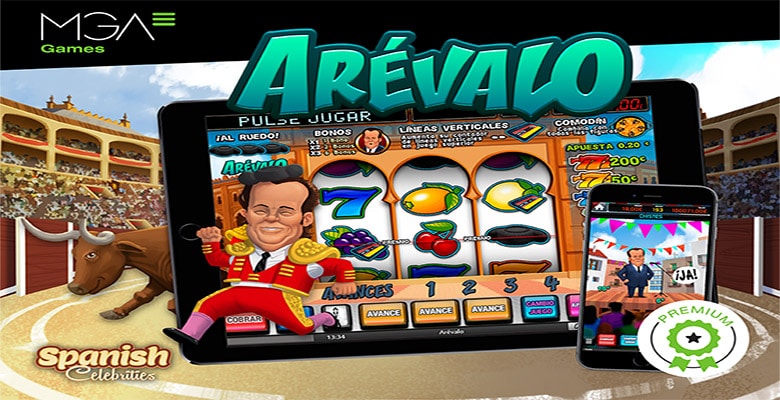 Latest Gambling News
Areválo Slot
MGA Games launch Areválo, its latest Spanish Celebrities slot with a comedic spin
Francisco Rodríguez Iglesias, known by his stage name Arévalo, is the latest comedian to become an online slot thanks to MGA Games. The company's new slot is available for Spanish operators from Monday 15 June and joins the cast of top-selling MGA Games slots starring other personalities who have played a role in Spanish comedy history, such as Chiquito de la Calzada and Señor Barragán.
The slot developed by MGA Games gives an overview of the comedian and actor's career and recreates some of his most memorable moments through MGA Games' popular mini-games, of which there are 5. As players will notice, the slot is centered around two different periods of Arévalo's life.
The first is based on his early years, alluding to his work as a comedian bullfighter in Latin America, his rise to fame after starring in Un, dos, tres … responda otra vez, the most successful game show in the history of Spanish television, the roaring success of his live shows across Spain, and his roles in various films.
Players will also come across references to Arévalo's more contemporary life, as it features images of his day-to-day in Valencia where he lives. Recent years have seen him starring on the stage as ever, appearing in many plays, and participating in various reality shows and television programmes.
His career as a comedian which has spanned nearly 40 years has made him one of the most beloved and endearing comedians in Spain.
With the creation of the Arévalo slot, MGA Games have made a slot game that perfectly matches the character's own personality traits, featuring some of his idiosyncratic lines and jokes, voiced by Arévalo himself. The comedian has been actively involved in the slot's production, the end product is a game replete with his fantastic sense of humour, users won't be able to contain their laughter.
"Winston Churchill said it well: a joke is a very serious thing," notes Joan Sanahuja CEO of MGA Games. "This is especially so when it helps boost product sales and attract users' attention," he concludes. "We fully embrace this approach and humour and fun always play an important role in our productions. We develop products that are flawless on a technological level, highly competitive and that also put a smile on players' faces."
Arévalo, like the entire collection of MGA Games productions, features top-quality graphics and optimal usability for gaming on any mobile device. The title is a 3-reel slot and has 5 original mini-games that help users accumulate more prizes. With medium volatility, the slot allows minimum bets of €0.20 and maximum bets of €10, with a maximum prize of €10,000.